We want to relieve some of your financial worries.
Since 1927 The Empty Stocking Fund has remained committed to supporting parents and guardians who may be struggling financially by giving you an opportunity to choose gifts to give them during the holiday season. In 2019 we expanded our offering to include a Back-to-School supply distribution in partnership with metro-area school districts. The total financial impact of the items you can receive for your children ranges from $150 to $250 PER CHILD each year.
Our goal is to relieve as many financial burdens related to providing for your children as we possibly can, allowing you to redirect any funds you may have spent on these items to support your family's needs in other ways.
It takes a village, and ESF wants to be part of yours!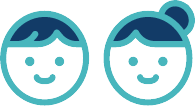 16
core school supplies included
$50+
cost savings per child
7+
items in each gift package
$100+
cost savings per child
"ESF helps me put a smile on my kid's face!"

I am a single parent of two boys. I work at a daycare making $9.50/hr. I have rent to pay, water, lights, phone, and a car note. I wasn't able to save anything. Santa's Village was and still is important to me, because it gives my kids a sense of hope and the assurance that Santa hasn't forgotten about them."

"The experience far exceeded my expectations. The staff was friendly and extremely helpful, and everyone made me feel welcome. The selection was of excellent quality and was given in generous proportion. Thank you for helping my family during such a hard time."

"ESF has been here every single year for my grandkids, and I appreciate them so very much because sometimes it was all that they got."

I was a single mother of three children fleeing domestic violence. My spirits were down and I was so focused on rebuilding that I didn't care about Christmas until I met with my social worker and she referred me to The Empty Stocking Fund. It relieved so much stress and made my kids so happy!"

"I'm a single mom of four with two jobs. Without ESF my kids would not have gotten any gifts."
HOW TO CREATE & MANAGE ACCOUNT
HOW TO MANAGE YOUR CHILDREN
Parents and guardians of children receiving any form of public assistance including Medicaid, PeachCare for Kids, TANF, SNAP, and SSI, may shop in the ESF Holiday Store for school-aged children via your ESF Parent Portal.